The Campine chicken breed was developed in Belgium. Sometimes referred to as
Kempisch Hoen. They have large single combs and white ear lobes. Their feathers are close and patterned.
Silver and Gold heads down to the bottom of the neck and then mixed with black feathers through out the body. They are not very cold hardy but a beautiful bird.




Campine Chick Picture:

Temperament:

Very active and likes to forage.
Eggs:

Small White Eggs at a 5 egg a week range

Outstanding feature:

Large comb that can be single or rose comb and sensitive to frostbite
Size:

4-5 pounds
Chicken Health Recommendations:
HEAVY DUTY POOP FREE CHICKEN WATERER NIPPLE is a must. Chickens must have clean water at all time to avoid diseases and to keep disease from spreading.



Chicken House Recommendations: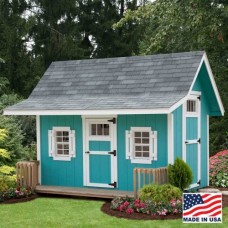 Made in USA – Superior Amish Made 3 in 1 Coop/Shed/Playhouse! Predator Proof Never worry when yo..
$1,999.95
---
Golden Campine Chicken
Product Code: MCMGCAMPINE
Availability: In Stock
Related Products