The Hamburg chicken breed came from German and Holland roots in the 1700's. Very beautiful feather patterns of black and white commonly, but they can be found in 11 different colors. They are a smaller bird that is an excellent layer of small white eggs. They like to free range in a wide area and can be quite flighty. They have a rose comb and slender legs. They are a cold hardy bird with 4 toes that are not very broody nor docile,but they are beautiful to look at.
Hamburg Chick picture:

Temperament:

Very active and likes to forage.
Eggs:

Small White Eggs at a 4 egg a week range

Outstanding feature:

Comes in 11 different color feather patterns
Size:

4-5 pounds
Chicken Health Recommendations:
HEAVY DUTY POOP FREE CHICKEN WATERER NIPPLE is a must. Chickens must have clean water at all time to avoid diseases and to keep disease from spreading.



Chicken House Recommendations: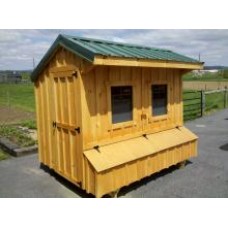 The Quaker Coop 6'x8' Is beautifully designed and hand crafted to perfection.

$1,900.00
Silver Spangled Hamburg Chicken
Product Code: HAMBURG
Availability: In Stock
Related Products