The Sussex breed originated in England around 43 AD. It is a very popular dual purpose breed. It has large eggs, a quiet temperament, and great foragers. They are also just the right size for meat birds as well. This is the all around "perfect chicken". It has beautiful speckled brown,black,white, and orange feathers that become more speckled with each molt. There personality could win over the smallest to the tallest. A 4 toed bird with a small single comb,white ear lobes and red ringed eyes. This bird is happy free ranging or confined.

Sussex Chick Picture:

Temperament:

Docile and lovable like a puppy dog.
Eggs:

Large light brown eggs at a 4 egg a week range

Outstanding feature:

beautiful speckled feathers

Size:

7-8 pounds
Chicken Health Recommendations:
HEAVY DUTY POOP FREE CHICKEN WATERER NIPPLE is a must. Chickens must have clean water at all time to avoid diseases and to keep disease from spreading.



Chicken House Recommendations: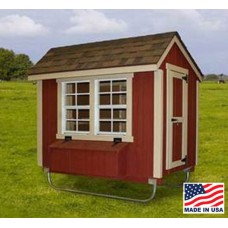 This 4 x 6 chicken coop houses 12 to 14 chickens(or 8 to 14 pigeons depending on breed), for fresh e..
$1,255.00


Speckled Sussex Chicken
Product Code: SUSSEX
Availability: In Stock
Related Products