The Brahma Chicken breed was developed around the 1950's in the U.S. It is a large meat bird and great egg layer. The feathers are mostly white,buff, or dark with black feathers around the neck. They have feathered legs and feet. This breed has a great personality. Can handle confinement and are broody mothers.

Brahma Chick Picture:

Temperament:

Calm and friendly

Eggs:

Large White Eggs at a 3 egg a week range

Outstanding feature:

fun and calm chicken with fluffy feathered legs

Size:

8-12 pounds
Chicken Health Recommendations:
HEAVY DUTY POOP FREE CHICKEN WATERER NIPPLE is a must. Chickens must have clean water at all time to avoid diseases and to keep disease from spreading.



Chicken House Recommendations: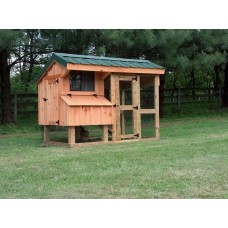 Light Brahma Chicken
Product Code: Brahma
Availability: In Stock
Related Products