This 30" x 78" Made In The USA EZ-fit Miniature Chicken Coop houses 3 to 5 chickens for fresh eggs daily! The EZ-fit Miniature Chicken Coop is delivered as a do-it-yourself kit, ready to assemble. Basic assembly
skills are required. Includes 30" x 48" outside run.

Enjoy free-range, fresh eggs with your own chicken coop. EZ-fit Chicken Coops come in sizes ranging
from Miniature (30" x 78") up to 5 ft. x 8 ft.

30" x 78" Miniature Ideal for 3 – 5 chickens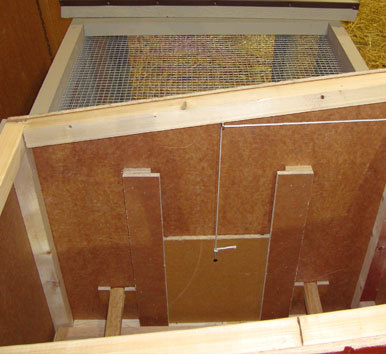 Free Shipping (Free shipping applies to Region 1)

Standard Features:
Primed SmartsideTM Siding
Egg Collection Box
Sliding Door
Ramp
30" x 48" Outside Run
Inside Roost/ Easy Access Nest
Predator-resistant Wire Mesh
Seamless Metal Roof
Aluminum Clean Out Tray
Hook to Secure Lid
Optional Wheels (Wheel Kit available for this Coop. Mobilize your coop. Wheel kit makes it easy to move your Coop.)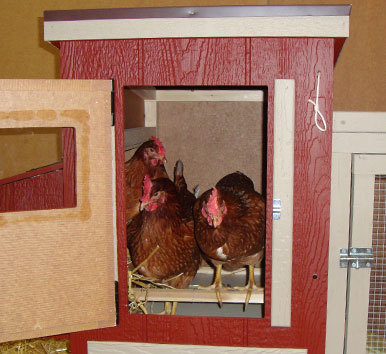 WATER NIPPLE PACK:


Never Spills Or Fills With POOP!

Keeps chicken water clean, fresh and
available longer! Makes chicken care
easy, clean, and fun! Leave town for
the weekend without worrying about
watering your flock! Works for
chickens, ducks, turkeys, pigeons, and
more! No more mess ever!
Free and Fast shipping!

The Nipple Style waterer had been used
on commerce chicken farms for many
years there are many good reasons. The
screw in style chicken water nipple is a
360 degree swivel nipple that simply


screw in to your drilled hole. Works well for PVC pipe style or bucket style DIY waterers . Removable lower
parts for easy cleaning or replacement .Will work great on gravity fed , Don't connect directly to a garden
hose !! Water nipple work under low pressure( 6psi or less ) House water pressure can be around 30 to 80
psi, If your nipples is install to PVC / CPVC pipe and want to connect it directly to a garden hose than a
water pressure regulator is requested. Use Drill bit size 11/32 " for PVC , CPVC or any thick plastic
Use Drill bit size 5/16" for thin plastic like water bottle cap .....
Use a little silicone or pipe thread tape to make water tight and screw nipple in.
Manufacturer recommends 1 nipple for every 3 birds.




Choose your state for "Shipping to Region"


Region 1

1 Ohio
2 Michigan
3 Indiana
4 Illinois
5 Kentucky
6 Tennessee
7 Mississippi
8 Alabama
9 Georgia
10 S. Carolina
11 N. Carolina
12 Virginia
13 West Virginia
14 Pennsylvania
15 Maryland
16 Delaware
17 New Jersey
18 New York
19 Wisconsin

Region 2

1 Maine
2 New Hampshire
3 Massachusetts
4 Rhode Island
5 Connecticut
6 Vermont
7 Florida
8 Louisiana
9 Arkansas
10 Oklahoma
11 Missouri
12 Kansas
13 Nebraska
14 Iowa
15 Minnesota

Region 3

1 N. Dakota
2 S. Dakota
3 Montana
4 Wyoming
5 Colorado
6 Arizona
7 Texas
8 New Mexico
9 Utah
10 Nevada
11 California
12 Idaho
13 Oregon
14 Washington



Chicken Coops:

Chicken coops are delivered via common carrier. Your chicken coop will arrive as a partially assembled kit and will be packaged in 1 pallet. You will need 2 people present to open the package and unload the kit parts manually. The driver may help out, but is not obligated to do so.

Note: Paint color in the pictures is just a suggestion. Item is Primed and ready to be painted any color you like.

ASSEMBLY TIME FOR THE COOPS IS MINIMAL- ONLY BASIC CARPENTRY SKILLS ARE REQUIRED. Shingles are included in this chicken coop kit.

The nesting box will arrive assembled but not attached. This only takes several screws (included) to fasten it to the coop. The Optional EZ-Skid runners are shipped inside the coop. These can also be fastened to the coop in a matter of minutes.

Delivery to Continental United States only.


Made In The USA EZ-fit Miniature Chicken Coop For 3-5 Birds
Brand: EZ-FIT
Product Code: EZMINI
Availability: In Stock
Tags: chicken coop, USA made chicken coop, quality coop, chicken, house, coop, chicken run. American made, Amish, EZ-fit