The Chicken Cottage comes in many different sizes

American Made Chicken Coop, Fine Quality Indeed, Shipped Fully Assembled!

Predator Proof

Never worry when you lock up that door at night. Your chickens are safe from any harm with
the sturdy locks and walls. No need to do any extra work predator proofing your coop.

Well Ventilated

This coop has several working windows for you to open and close at will. You can choose the
level of venting needed for this coop with ease. We also provide the option to have these
windows wire protected for extra Predator proofing if you like.



Spacious

Enjoy being able to move around in this coop. You will have plenty of room inside making it
a joy to collect eggs and easy to clean.


Attention to Details

Every side of this coop has beautiful features added as a special bonus for you. There are
decorative hinges and hardware all around. Beautiful stain colors and roof options abound.


Everything you need to get that perfect chicken coop the way you want it.



Added Bonus

Plastic floor and electrical already included.
Plus a very large roosting bar.


Easy shipment tracing

– we provide the customer with a tracking number as soon as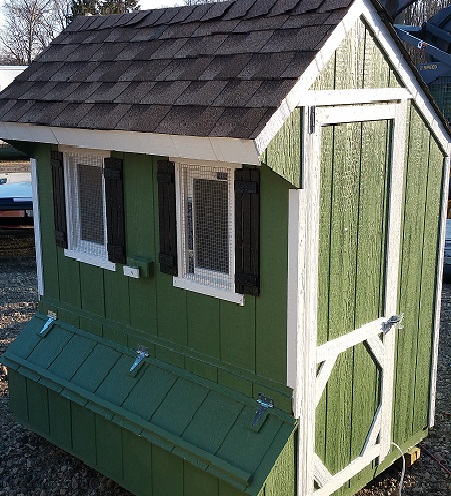 it ships and they can trace it all the way from start to arrival.


Standard Features:
Nesting Boxes

Smallest size holds up to 12 Chickens

Pressure Treated Skids


30 Year TimberLine Shingled Roof


Electric Whip


Chicken Door

Person Door


Vent lid

Slider Windows w/screens

Shipped Fully Assembled!

Optional Features:


Predator Resistant Wire Mesh For The Windows

Keep the windows open for extra circulation while keeping the animals out of your coop with our
predator resistant wire mesh over the bottom part of the windows. It is made from
sturdy 14 gauge wire and painted black for long lasting beauty.




WATER NIPPLE PACK:

Never Spills Or Fills With POOP!

Keeps chicken water clean, fresh and
available longer! Makes chicken care
easy, clean, and fun! Leave town for
the weekend without worrying about
watering your flock! Works for
chickens, ducks, turkeys, pigeons, and
more! No more mess ever!
Free and Fast shipping!

The Nipple Style waterer had been used
on commerce chicken farms for many
years there are many good reasons. The
screw in style chicken water nipple is a
360 degree swivel nipple that simply


screw in to your drilled hole. Works well for PVC pipe style or bucket style DIY waterers . Removable lower
parts for easy cleaning or replacement .Will work great on gravity fed , Don't connect directly to a garden
hose !! Water nipple work under low pressure( 6psi or less ) House water pressure can be around 30 to 80
psi, If your nipples is install to PVC / CPVC pipe and want to connect it directly to a garden hose than a
water pressure regulator is requested.

Use Drill bit size 11/32 " for PVC , CPVC or any thick plastic

Use Drill bit size 5/16" for thin plastic like water bottle cap .....


Use a little silicone or pipe thread tape to make water tight and screw nipple in.

Manufacturer recommends 1 nipple for every 3 birds.
Shipping Chicken Coops:
NOTICE:

Delivery to Continental United States only. Shipped Fully Assembled! We deliver all over the United States. Once your order has been placed, we will contact you to arrange shipping. Orders are not final until shipping costs have been agreed upon.








Chicken Cottage
Product Code: COTTAGE
Availability: In Stock
$0.00

Price in reward points: 10
Related Products