The Barnevelder breed is a Dutch breed of chicken. A good dual purpose chicken that lay large eggs and are friendly. They do not mind confinement. They have dark brown feathers with a lacy pattern. They have a single comb and small wattles. Red circled eyes are also apparent. These are an easy to keep chicken.
Barnevelder Chick Picture:

Temperament:

Friendly,quiet
Eggs:

Large dark brown eggs at a 3 egg a week range

Outstanding feature:

They have laced feathers and are cold hardy
Size:

6-7

pounds
Chicken Health Recommendations:
HEAVY DUTY POOP FREE CHICKEN WATERER NIPPLE is a must. Chickens must have clean water at all time to avoid diseases and to keep disease from spreading.



Chicken House Recommendations: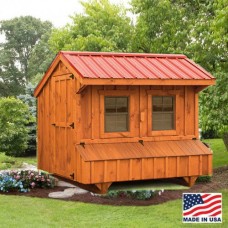 The Quaker Coop 6'x6' Is beautifully designed and hand crafted to perfection.
---
---
Barnevelder Chicken
Product Code: Barnevelder
Availability: In Stock
Related Products