This Model Cabin is a our basic cabin design with the option of adding on a porch to the front or back in a size of the customers choosing.
Bedroom, a bathroom, kitchen, loft, living area and the option of
covered porch.
For details on our layaway program click here



This cabin is made with INSULATED SIP PANELS.

BASIC MODELS INCLUDE:Cabin pre-built by the Amish and shipped to the site1 or 2 - 36" entry door (depending on plan)4 to 6 - 32" x 38" single-hung, double-insulated vinyl windows (depending on plan)3/8" rigid floor insulation SIP Wall & Roof Providing The Highest Insulation & Structural Values Foundation plan ALL PRE-BUILT & BUILT ON SITE CABINS ARE CUSTOMIZABLE
PREMIUM MODELS INCLUDE
:Cabin completely pre-built by the Amish and shipped to your site1 or 2 - 36" entry doors, 4 to 6 - 32" x 38" single-hung, double-insulated vinyl windows SIP Wall & Roof providing the highest Insulation & Structural Values200-amp pre-wired electric with outlet boxes switches, and breaker box 8' kitchen cabinets with counter top and sink (no appliances)Stained Floors, full bath, including shower, sink, vanity, and toilet, foundation plan Interior walls, ceiling, and floor are all clear coated, fans in bedrooms and living room Foundation plan ALL PRE-BUILT & BUILT ON SITE CABINS ARE CUSTOMIZABLE
KIT PACKAGE INCLUDES:

Comes with Insulated unassembled Cabin
Need Financing or Can't qualify for Financing? Want 0% interest and need monthly payment plan. Just click on the Layaway Payment Option on the right under the available options.

Our Premium Cabin Includes:
SIP panels for walls and roof providing your structural insulation and the sheer for the house White Pine Tongue & Groove Flooring Exterior Tongue & Groove D-Log siding Insulated, vinyl windows (the number of windows depends on the size of the structure) 36" steel-insulated entry doors, house wrap and roof felt Baked-on enamel metal roof (choice of colors) Tongue & Groove interior finished walls Tongue & Groove ceiling Rafters and ridge beam structure for roof UV and Watershed stain for exterior wood protection
Structural insulated panels for walls and ceilings

2"x6"tongue and groove D-Log Siding

2"x6"tongue and groove flooring and ceiling

40-year enamel metal roof

4"x6"pressure treated foundation runners

Approximately 89" sidewalls,floor to ceiling peak approx.125",
1-36" metal door,pre-hung
5-32"x38" vinyl double hung and insulated windows with matching trim

Exterior spray-on stain for uv and water shed protection

ALL electric,loft/ladder,interior walls,and kitchen cabinets are included

in the price.

The cabin is delivered and placed on your foundation (crawlspace or basement) as an assembled pre-built cabin. The front and/or rear porch is built onsite after cabin delivery.

Do you have electrical power at the location you want your cabin or do you need off-grid solar power system included in the cabin purchase?

ELECTRIC BILL KILLING YOU? WANT POWER AND NO ELECTRIC BILL EVER? Do you want to save money on your electric bill? Do you want to lower your electric bill plus have some backup power during a blackout? Do you want total Energy Independence and go (Off-grid).
Please click here.
Don't Forget The Power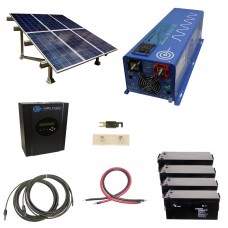 2 Bedroom Cabin
Product Code: WHITETAIL2
Availability: In Stock
Related Products
Tags: cabin kit, pre-built cabin, custom cabin kits, off grid cabin, country cabin, cabin in the woods, hunting cabin, mother in law cottage, office, business, home, houses, portable houses