How to Pick a Chicken Coop


Lets get started. Below is a list that people consider before buying a chicken house.


Cheap chicken coop
Discount chicken coop
Large chicken coop
Small chicken coop
Chicken coop features
Predator proof chicken coop
Weather proof chicken coop
Chicken tractor
Chicken coop with run
Move-able chicken coop
Beautiful chicken coop

So price, size, features, and of course every one wants a good looking chicken coop. Well to build your own chicken coop the minimum price is around $500 and that's using cheap parts. The prices on greengardenchicken are very reasonable.

What about the size? Each chicken needs at least 3 square feet of space. The more space the happier your chickens. Each of our coops tells you the size and is categorized in groups for your convenience. Group one has coops for 2-4chickens. Group 2 has coops for 5 or more chickens. If you need larger coops just "ask Mrs. Chicken" and we will find it for you.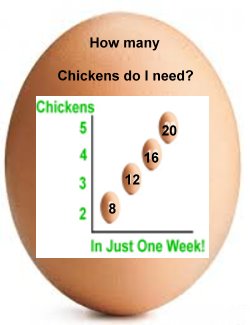 Features are important too. Do you need a coop that can move around? Do you need it to look pretty to not offend the neighbors? Each of our coops are beautiful and functional. Function is very important. It needs to be easy to clean and easy to access their eggs and feeders.

Move-able chicken coop or not? A chicken tractor gives you the option of moving the coop to keep the poo from piling up and to fertilize the ground or garden evenly. This also make its more convenient for "free ranging with out killing all the grass in one spot.

People in cool climates may like to choose one of our American made coops for the option of insulation(not always needed) so you don't have to depend on just the heat lamp in the winter. They also have the option for electrical packages. This is a nice feature for heat lamps,lights, or heating the water container.

You can choose what you like. All these features are not needed but they are their for your convenience to have all the options you might want.

That's it. We have gone through all the important aspects of choosing the right chicken coop so feel confident and start shopping. If you would like me to personally recommend a coop that fits your needs just email "Mrs. Chicken".

I recommend for 2-4 chickens


and for 5 or more chickens I recommend

---
There are no products to list in this category.