Portable Solar System vs. Permanent Solar System
Ever wanted to know what is the difference between a permanent and a portable solar system? How do you choose which one is right for you?
Pros of a portable solar system:
1.Portable does not need to be cleaned off in the snow if you fold it at night then open it in the morning.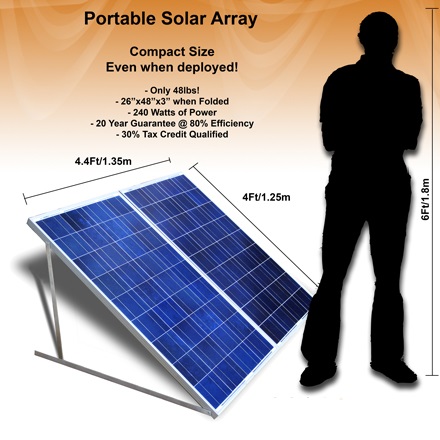 2. Can be moved easily by hand to follow the sun as often or as little as you wish without paying the high cost of a solar tracker system.
3. You can put it away when you are going to be out of town so you don't have to worry about theft or damage while you are gone.
4. Very DIY friendly. You do not have to waste money on expensive mounting and installation prices.
5. Easy to assemble and dissemble.
6. Never have to clean off the snow after a heavy storm,just fold it up before the snow or put it away and take it back out in the morning.
Cons of a portable solar system:
1. Light weight so you need to weigh it down if you live in a windy area.

Pros of
a
permanent solar system:

1. It is permanently mounted so you don't have to worry about wind pushing it.


Cons of a permanent solar system:

1. Permanently mounted so you will have to clean them off after each snow storm.
2. Cost thousands more for installation and mounting.
3.Can not move it around to follow the sun which changes yearly.
4. Have to climb on the roof and clean them often of debris.
WHY YOU SHOULD BUY FROM THE GGC STORE
We have A+ BBB Rating. Click here to see our customers reviews. Our Better Business Bureau (BBB) Rating is A+ and you can click here to see our Better Business Bureau (BBB) Rating of A+.
We offer FREE and qualified technical support. We understand the products we sell.
We have helped people lower their electric bill and get off-Grid for almost a decade now.
We provide a FREE qualified technical support to answer all of your questions before and after a purchase.
We answer all email questions within the same business day.
We offer a 1 year full replacement warranty:

Warranty

: 1 Year Warranty Parts and Labor.
We offer FREE Shipping on all off-grid systems.
We want you to give us a try and see why thousands of people just like you have benefited from lower eclectic bills or no electric bill with an off-grid system.
---
There are no products to list in this category.