Dorking
The Dorking chicken breed was developed before 54-BC in Italy. They have five toes and rectangle shape. They have white skin and a single comb.Dorkings have red ear lobes. There are five recognized color varieties: White, Silver-grey, Red, Dark and Cuckooan. endangered breed. Extremely endangered bird worth saving. This breed can be confined or free range.

Dorking Chick Picture:

Temperament:

Calm
Eggs:

Medium cream eggs at a 3 egg a week range

Outstanding feature:

rose comb or single comb and short legs

Size:

7-8 pounds
Chicken Health Recommendations:
HEAVY DUTY POOP FREE CHICKEN WATERER NIPPLE is a must. Chickens must have clean water at all time to avoid diseases and to keep disease from spreading.



Chicken House Recommendations: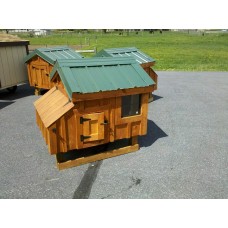 ---
Refine Search
Showing 1 to 2 of 2 (1 Pages)