Buckeye
The Buckeye chicken breed is American and developed by a lady named Nettie Metcal. The are on the endangered list. They have yellow skin and brown feathers with darker tips toward the tail. They do not have color variations. They have a pea comb and yellow clean legs. The are great egg layers and very hardy.
Buckeye Chick Picture:

Temperament:

Calm and likes to forage.
Eggs:

Large brown eggs at a 4 egg a week range

Outstanding feature

:Very cold hardy
Size:

7-9 pounds
Chicken Health Recommendations:
HEAVY DUTY POOP FREE CHICKEN WATERER NIPPLE is a must. Chickens must have clean water at all time to avoid diseases and to keep disease from spreading.



Chicken House Recommendations: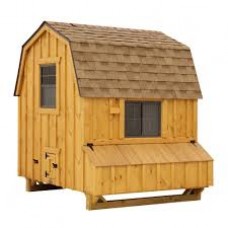 ---
Refine Search
Showing 1 to 1 of 1 (1 Pages)