Bantam Silkie
Beautiful...Fun....Fluffy... hardly describe these black skinned chickens. They also have a black meat! They are great layers of smallish white eggs. They have 5 toes and very fluffy hair like feathers. The perfect pet with a lap puppy personality.
Bantam Silkie chick: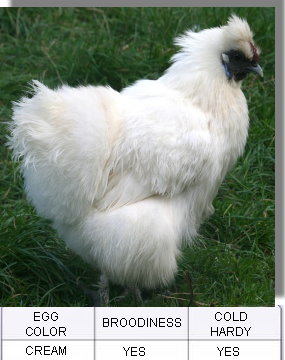 Temperament:

calm,fun,relaxed
Eggs:

Small White Eggs at a4egg a week range

Outstanding feature:

fluffy hair feathers
Size:

3 pound
Chicken Health Recommendations:
HEAVY DUTY POOP FREE CHICKEN WATERER NIPPLE is a must. Chickens must have clean water at all time to avoid diseases and to keep disease from spreading.



Chicken House Recommendations: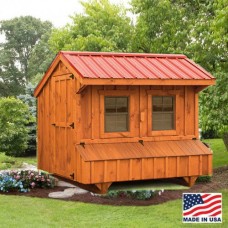 The Quaker Coop 6'x6' Is beautifully designed and hand crafted to perfection.

$1,694.00
---
Refine Search
Showing 1 to 2 of 2 (1 Pages)