Araucana
The Araucana chicken breed originated in Chile. They have a pea comb and white skin. They can be both tailed and rump-less. They can have ear tuffs,muffs, and beards, though the tuffs are some times bread out to decrease the mortality gene. You can sometimes see a small crest and they have no wattles. Araucanas are quite rare.
Araucana Chick Picture:

Temperament:

Very active and likes to forage.
Eggs:

Medium blue eggs at a 3 egg a week range

Outstanding feature:

Has a strong mortality rate if trying to breed this chicken.
Size:

5-7 pounds
Chicken Health Recommendations:
HEAVY DUTY POOP FREE CHICKEN WATERER NIPPLE is a must. Chickens must have clean water at all time to avoid diseases and to keep disease from spreading.



Chicken House Recommendations: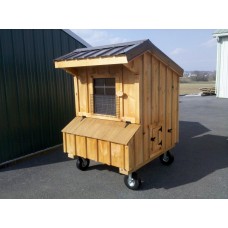 The Quaker Coop 5'x4' Is beautifully designed and hand crafted to perfection. America..
$1,175.00


---
Refine Search
Showing 1 to 1 of 1 (1 Pages)