Ameraucana
The Ameraucana is an American Breed. It was developed in the 1970's. They have a pea comb and carry the blue egg gene. The are very fun with a beard and muffs as well as large tails. They come in 7 different color varieties. They have small earlobes and comb and small to non existent wattles, all of which are red. There legs are a light blue in color. They are easily confused with other breeds so look closely.Bares confinement or free range.

Ameraucana Chick Picture:

Temperament:

Happy calm

Eggs:

Medium blue eggs at a 3 egg a week range

Outstanding feature:

Beards and Muffs making an odd but fun bird

Size:

6-7 pounds
Chicken Health Recommendations:
HEAVY DUTY POOP FREE CHICKEN WATERER NIPPLE is a must. Chickens must have clean water at all time to avoid diseases and to keep disease from spreading.



Chicken House Recommendations: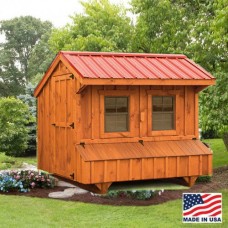 The Quaker Coop 6'x6' Is beautifully designed and hand crafted to perfection.

$1,694.00
---
Refine Search
Showing 1 to 3 of 3 (1 Pages)