Plymouth Rock
Also known as "Barred Rock" is a New England breed from the 1800's. A great dual purpose breed that is an excellent brown egg layer and a hardy meat bird. It is well adaptable to cold weather. This bird prefers to free range but can be confined. Plymouth rocks have a happy personality. They come in many colors,but it is rare to find them in any color other than the black and white colors. They have a single rose comb making them different from the Dominique breed that looks just like them (they have a rose comb instead).
Plymouth Rock Chick Picture:

Temperament:

Very friendly happy bird

Eggs:

Large brown Eggs at a 4 egg a week range

Outstanding feature:

All around lovable dual purpose chicken
Size:

7-8 pounds
Chicken Health Recommendations:
HEAVY DUTY POOP FREE CHICKEN WATERER NIPPLE is a must. Chickens must have clean water at all time to avoid diseases and to keep disease from spreading.



Chicken House Recommendations: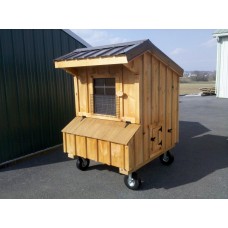 ---
Refine Search
Showing 1 to 1 of 1 (1 Pages)