Minorca
From the Mediterranean Island of Minorca we get this beautiful red faced Minorca chicken. They have large floppy combs and black shiny feathers. Though there are some recognized Minorca breeds with Rose combs. These birds are good layers and a great show bird. They have white earlobes that stand out against the black feathers. They are typically flighty and noisy. This four toed chicken is not cold hardy and a bit of a quirky personality.

Minorca Chick Picture:

Temperament:

Very active and likes to forage.
Eggs:

Large White Eggs at a 3-4 egg a week range

Outstanding feature:

Large comb that can be single or rose comb and sensitive to frostbite
Size:

7-8 pounds
Chicken Health Recommendations:
HEAVY DUTY POOP FREE CHICKEN WATERER NIPPLE is a must. Chickens must have clean water at all time to avoid diseases and to keep disease from spreading.



Chicken House Recommendations: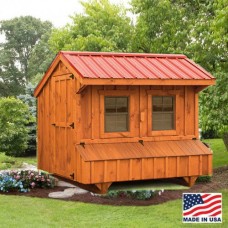 The Quaker Coop 6'x6' Is beautifully designed and hand crafted to perfection.

$1,694.00


---
Refine Search
Showing 1 to 2 of 2 (1 Pages)