Leghorn (White)
The Italian breed well known in America as the Leghorn. Introduced into America in 1828. There are 10 different recognized color varieties. Single or rose comb. They lay large white eggs and are a good size for meat as well. The white Leghorn can lay up to 1 egg every day unlike the colored leghorns. They are also cold hardy,but should have their combs protected in winter. They can be confined or adapted to free range.

Leghorn chicken picture:





Temperament:

Very active and likes to forage.
Eggs:

Large White Eggs at a 5-7 egg a week range

Outstanding feature:

Large comb that can be single or rose comb and sensitive to frostbite
Size:

6-7 pounds
Chicken Health Recommendations:
HEAVY DUTY POOP FREE CHICKEN WATERER NIPPLE is a must. Chickens must have clean water at all time to avoid diseases and to keep disease from spreading.



Chicken House Recommendations: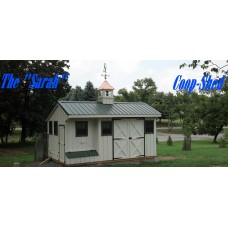 American Made Chicken Coop, Fine Quality Indeed, Shipped Fully Assembled! Only one of its kind..
$5,000.00
---
Refine Search
Showing 1 to 1 of 1 (1 Pages)