Delaware Chicken
The Delaware is a relatively new breed created in 1940 in the State of Delaware and is so named after this state. It's a mix of Barred Rock and New Hampshire Red. Ideally was created to have a more meaty bird and still high egg production. Today they are considered an endangered breed. They are a white color with a black tail tip and some black around the neck and streaked through the body feathers. They sport a small single comb that needs to be protected from harsh long winters but they are still relatively cold hardy. They are a friendly docile bird.


Delaware Chick Picture:

Temperament:

Very docile and calm

Eggs:

Large brown Eggs at a 4 egg a week range

Outstanding feature:

Excellent brooder that can bare confinement well



Size:

7-8.5 pounds
Chicken Health Recommendations:
HEAVY DUTY POOP FREE CHICKEN WATERER NIPPLE is a must. Chickens must have clean water at all time to avoid diseases and to keep disease from spreading.



Chicken House Recommendations: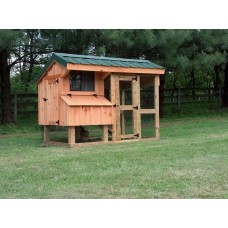 Take a look at "The Nancy" It has everything you need.
$1550.

---
Refine Search
Showing 1 to 2 of 2 (1 Pages)