Catalana
The Catalana is a Spanish chicken breed. They are very common in South America,but hardly found in North America. They prefere very hot weather and don't fair well in the cooler climates. They are a great egg producer at 4 a week average. Catalanas are not one to be confined. They are a very lively bird that likes to forage around without human contact. Catalana chickens have buff colored feathers with a greenish tail. They have a single come with white earlobes.



Catalana Chick Picture

: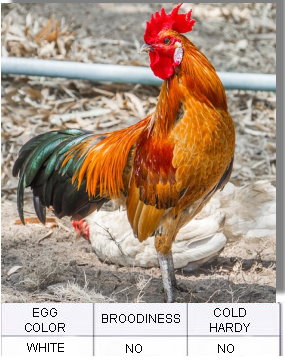 Temperament:

Very active and likes to forage.
Eggs:

Large White,cream, and some times pink Eggs at a 4 eggs a week range

Outstanding feature:

Very flighty bird that can not be confined

Size:

6-8 pounds
Chicken Health Recommendations:
HEAVY DUTY POOP FREE CHICKEN WATERER NIPPLE is a must. Chickens must have clean water at all time to avoid diseases and to keep disease from spreading.



Chicken House Recommendations:



---
---
Refine Search
Showing 1 to 3 of 3 (1 Pages)