Ancona Chicken
Beautiful molted feather patterned bird. Some say the color to be black and white while others say a dark beetle green with white. They can be found with a rose comb or single comb. Originally from Italy and imported to Europe in 1851. It is named after the Italian city Ancona. They were thought to be related to the Leghorn Chicken Variety. If keeping as show bird this one is not for beginners. They are difficult to breed show quality feather patterns. One must pay extreme attention to the selection when breeding and it may take as many as 10 breeding's to produce a show quality bird.This is a cold hardy 4 toed chicken that like to run around,but can handle confinement.


Ancona Chick Picture: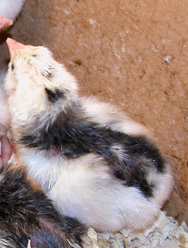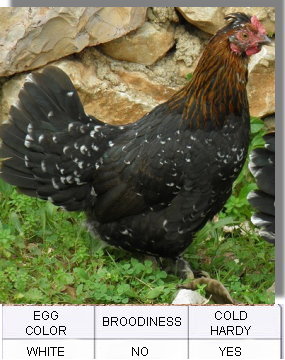 Temperament:

Very active and likes to forage.
Eggs:

Large White Eggs at a 5 egg a week range

Outstanding feature:

Large comb that can be single or rose comb and sensitive to frostbite
Size:

5-7 pound
Chicken Health Recommendations:
HEAVY DUTY POOP FREE CHICKEN WATERER NIPPLE is a must. Chickens must have clean water at all time to avoid diseases and to keep disease from spreading.



Chicken House Recommendations: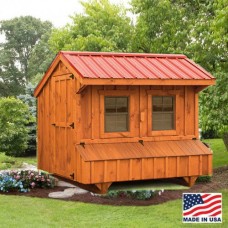 ---
Refine Search
Showing 1 to 2 of 2 (1 Pages)